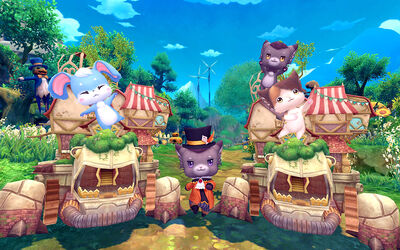 See also: Beginner's Guide/Terracottage
The Terracottage is a mobile house in which an adventurer can furnish, handle professions, socialize, and more. Access to the interior (by pressing H), as well as the ability to mount it in Meridia, is unlocked upon completion of the quest Lv21. Miners, not Minors!.
The Terracottage consists of three rooms: Main Hall, Greenhouse and Workshop. In these rooms, players can perform various tasks and handle professions, including cooking, farming, crafting, and alchemy.
Besides having other players visiting, the Senshi can also be present in the Terracottage. Senshi can be placed in various locations, whether it's in the Main Hall, Greenhouse or Workshop. Players can talk to the Senshi in order to trigger daily Senshi quests. These quests increase the Bond between the player and the Senshi, which can be used by the player to upgrade the Senshi.
Main Hall
Edit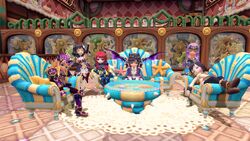 The Main Hall is a wide-open space which players can customize with furniture and decorations. Alfred, an NPC, is present to guide the player.
In the Main Hall there are also community chests that the player and their guests can open to collect loot. With more people opening the chest, better rewards will be given.
See also: Community Chest
Greenhouse
Edit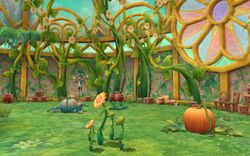 The Greenhouse, located on the top of the Terracottage, contrasts from the bustling, mechanic nature of the other floors. Here, players can grow and harvest materials necessary for crafting and alchemy through the Farming profession. The kitchen is located in the Greenhouse, allowing players to use their Cooking skills to create food and drink, using ingredients gained from fishing and gathering.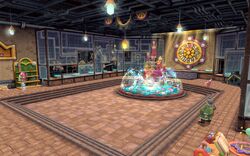 The Workshop is the heart of the Terracottage and the place where players can produce outfits, equipment, and furniture with their Crafting skills. Alchemy can be performed at the Alchemist's Workbench to create potions and Starstones. On the walls, players can see holographic projections of various bosses of the world.