A Party is a system that allows players to create or join groups. It can either be created by inviting other players, or through party recruitment. Other players can be invited by clicking on the player, and right-clicking their name window. Party recruitment can be opened by clicking on the flag icon adjacent to the mini-map.
To leave parties, right-click your own name window and click Leave Party. Party leaders can disband parties through this way, too. To transfer party leadership, right-click the new party member's name window.
Party Recruitment
Edit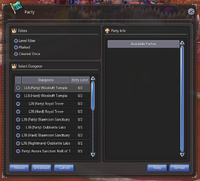 This is where players set up parties for specific dungeons. Hovering over the table of dungeon names, under the header "Select Dungeon", the player can view information of the dungeon's daily reset and entry per 120 minutes. The list can also be refreshed manually if necessary.
To make it easier to overview, it is possible to filter out dungeons under "Filter". The filter options are:
Level Filter
Marked
Cleared Once
When spotting a party, the player can view the party's info; its leader's and members' class and level, channel and message. To join a party, the player first needs to send a request, and then let leader either accept or deny it.
When creating one's own recruitment, the player has to primarily decide what dungeon to recruit for and an optional message.
If the party is open for recruitment, the party leader can broadcast their party to all players by clicking on the button "Broadcast" on the bottom-left of the interface. The leader can also warp the party to the dungeon, which is a very effective way to get the party to the right spot and channel.