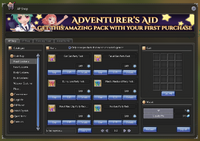 Item Mall is a shop interface specialized for players to buy various item for AP (Aeria Points). It's also here where the LP Shop, Dressing Room and Astral Puzzle is located.
To reach the interface, simply click on the keyboard "I", which is default shortcut. It is also located on the bottom-right screen as a shop carriage.
Interface
Edit
In the AP Shop the player can buy various items by using the AP currency. The items can vary between grab bags, consumables, fortification scrolls, costume formulas etc.
When buying an item, the item will first be sent to the Cart, which in turn can be redeemed from the player by either right-clicking on the item or click on the "Get All" button.
To buy AP directly, the player can click on the "Buy AP" button on the bottom-right of the interface. The player needs to log in with their Aeria account in order to do so.
Main article: Loyalty Shop
Dressing Room
Edit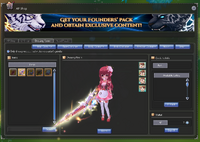 The Dressing Room is where the player can view some costumes, mounts and Senshi. Dyeable head and body costumes can even be customized to the player's desire.
Astral Puzzle
Edit
The Astral Puzzle is a gamble table consisting of various items. In order to use it, the player need an item called Astral Crystal, which can be bought from the AP Shop or the section beside named "Astral Crystal Sale" when products are available. When used, a highlight will quickly swipe over the first row, slowing down as it progress, and land on an item. If the player lands on the item 10 Loyalty Points (Bound), the player cannot progress higher and is forced to claim it. However, if the player lands on any other item, the player can either claim the item or go up a row, clicking on "Claim" respective "Go for it!". A general thumbrule of all tables are, the higher the row, the better the item.
When claiming the item, the item will first be placed in the Cart, which in turn the player can redeem. The item will automatically go to the Backpack.