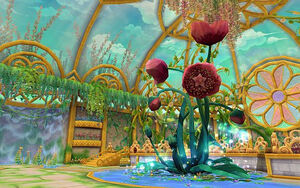 Farming is a profession allowing players to cultivate plants in fertile soil. Farming can be performed in the Greenhouse level of the Terracottage, which is unlocked upon completion of the quest Lv21. Miners, not Minors!
Mechanics
Edit
Seeds can be purchased and planted in fertile soil mounds, and be harvested after a certain amount of time. Plants begin in the Budding Phase, and will advance to the Growing Phase and Mature Phase.
Mutations
Edit
Mutations are naturally-arising occurrences that happen when a plant enters a new growth phase. There are three potential mutations, called Warping, Gigantism, and Cornucopia. Greater Warping mutation values reduce the time necessary for the plant to grow. Gigantism mutations result in larger harvests, and Cornucopia mutations increase the chances of producing an extra crop.
Farming Levels
Edit
| Icon | Name | Ranks | Buff |
| --- | --- | --- | --- |
| | Bean Walker | 1 - 4 | None |
| | Detassler | 5 - 9 | Farming Technique Lv1: Slightly increases the chance of crop mutation. |
| | Hired Hand | 10 - 14 | Farming Knowledge Lv1: Slightly increases the size of your crops. |
| | Gardener | 15 - 19 | Farming Proficiency Lv1: Slightly increases your professional EXP gain while farming. |
| | Farmer | 20 - 24 | Farming Technique Lv2: Slightly increases the chance of crop mutation. |
| | Harvester | 25 - 29 | Farming Knowledge Lv2: Slightly increases the size of your crops. |
| | Rancher | 30 - 34 | Farming Proficiency Lv2: Slightly increases your professional EXP gain while farming. |
| | Sharecropper | 35 - 39 | Farming Technique Lv3: Slightly increases the chance of crop mutation. |
| | Agriculturalist | 40 - 44 | Farming Knowledge Lv3: Slightly increases the size of your crops. |
| | Horticulturist | 45 - 49 | Farming Proficiency Lv3: Slightly increases your professional EXP gain while farming. |
| | Agronomist | 50 | Farming Technique Lv4: Slightly increases the chance of crop mutation. |
Experience
Edit
Rank
Name
Experience to next level
Stats
HP
ATK
DEF
1

Bean Walker
40
2
2
40
9
3
80
4
4
80
2
5

Detassler
120
13
6
120
5
7
160
3
8
160
16
9
200
6
10

Hired Hand
200
3
11
240
20
12
240
7
13
280
4
14
280
25
15

Gardener
320
9
16
320
5
17
360
30
18
360
11
19
400
6
20

Farmer
400
35
21
760
14
22
760
8
23
1080
41
24
1080
17
25

Harvester
1440
9
26
1440
48
27
1800
20
28
1800
11
29
2120
55
30

Rancher
2120
24
31
2600
13
32
2600
63
33
3080
29
34
3080
16
35

Sharecropper
3560
72
36
3560
34
37
4040
18
38
4040
82
39
4520
40
40

Agriculturalist
4520
22
41
4800
92
42
5200
46
43
5200
24
44
5400
99
45

Horticulturist
5600
52
46
5800
27
47
6000
108
48
6200
58
49
6400
30
50

Agronomist
6600
116
List of Farming Products
Edit
Main article: Category:Farming products