Launching the Game
Edit
Depending on which method you used to download, you may or may not have a desktop or start menu shortcut. The official downloader, Aeria Ignite, and segmented client have an option to install, and therefore, have such things. Conversely, the minimal clients and the full client are not installed, and therefore do not automatically create a start menu/desktop shortcut. Instead, you can locate Launcher.exe within the game folder and create a shortcut, or open the file folder execute Launcher.exe when you want to play.
Do not move Launcher.exe outside of its folder and then run it! If you do so, it will not locate the game's files and will re-download everything. You CAN, however, move the entire game folder itself.
After opening the launcher, it will update your game client (known as "patching"). Click PLAY when it finishes. You may encounter an authorization window when logging in for the first time. Click Authorize, and you're in! If your computer is not powerful, it would be well-advised to open the launcher settings and reducing graphics settings before opening the game.
Common Problems and Solutions
Edit
Delete Launcher Err Return 5
Edit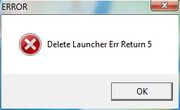 Locate _Launcher.exe (note the underscore) in the game folder (default C:\AeriaGames\TwinSaga) and delete it. Afterwards, execute Launcher.exe. The launcher should then be able to open successfully.
Access Denied or blank login window
Edit
If you receive an Access Denied message in the login window or if the login window is blank, clear your Internet Explorer cache or reboot your computer. Use a search engine for instructions if you do not know how to clear Internet Explore's cache.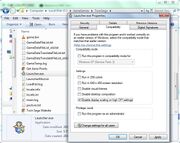 Find Launcher.exe in the game folder and right-click it. In the list of options, click Properties at the bottom. Navigate to the Compatibility tab, then check the setting for "Disable Display Scaling on High DPI Settings" and save.