Download and Install
Edit
Official Downloader
Edit
There are multiple ways of downloading Twin Saga. The primary method would be to go to the main page and click DOWNLOAD on the right. You can choose whether to download the English, German, or French clients, but be aware that each client connects to different game servers. Execute the freshly-downloaded program called twinsaga_us_downloader.exe. If everything is successful, it should download all components of the game (several "parts"), and eventually finish downloading. Clicking OK in the window that says "Download Successful" should begin the installation.
You will need to read and accept the terms of the license agreement, and click next. Eventually, you will get to a screen in which you can choose your install location. The default location is C:\AeriaGames\TwinSaga unless you prefer it someplace else. Afterwards, simply wait for the game to install.
All of the components are downloaded first, then installed. After installation, if you do not foresee a need for reinstalling the game in the future, you can delete C:\AeriaGames\Downloader to save space.
Twin Saga is also available on Steam, allowing you to launch through steam, track your hours, and win trading cards. Its Steam store page can be found at this link: https://store.steampowered.com/app/454910/Twin_Saga/.
Once the installation finishes, you can launch the game from the Steam Library. When the launcher opens and finishes patching, a window may pop up and ask you to create or log into an Aeria account if your Steam account is not already linked to an Aeria account. Your accounts may already be linked if you have played another Aeria game through Steam, such as Aura Kingdom or Dragomon Hunter. If that is not the case, you will need to create or log into an Aeria account before you can play.
Mirror: Minimal Client
Edit
The minimal client is an alternative download method containing only the bare minimum required to run the launcher and download files from the patch server. After downloading and unpacking, execute Launcher.exe and all of the game files will be downloaded from the patch server.
There are two minimal clients available, one made by GGS_Bacon and one made by user lolaturface. Both perform the same function, so it can be presumed that the choice lies in whether you prefer downloading from Google Drive or MediaFire, or whether you prefer .rar or .zip file formats.
Mirror: Full Client
Edit
The full client download method is a mirror download that contains all of the game files within a zip folder (6 gigabytes). If using this method, all you need to do is download, and then unzip it into the location of your choice. Note that this method does not create a Desktop shortcut or place a shortcut in your Start menu. These must be done manually.
Mirror: Segmented Download
Edit
The segmented download mirror is another method to download the game. When using the official downloader, it downloads approximately 90% of the game client's data in files. However, rather than downloading from Akamai's content delivery network (CDN), the segmented download mirror instead downloads from Google Drive. There is no other difference, but using this method will help if you have issues with Akamai's program.
To use this method, download the 4 files within the Google Drive folder, and make sure they are all in the same folder. Execute the file called tws_us_installer_201YMMDD.exe, and begin installation.
Common Problems and Solutions
Edit
No Free Space on the C: Drive
Edit
The official downloader downloads the game to the C: drive by default. If this is not possible for you, you must use a mirror download.
Download Failed - Forbidden in Google Drive
Edit
If you receive "Download Failed - Forbidden" from your browser when downloading anything from Google Drive, simply log out and log back into your Google account.
7-Zip: Data Error
Edit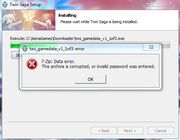 If you used the official downloader, locate C:\AeriaGames\Downloader. Delete tws_us_installer_201YMMDD.exe and rerun the file you downloaded from the website, named twinsaga_us_downloader.exe.
If you used the segmented mirror, locate the folder in which you downloaded the components. Delete tws_us_intsaller_201YMMDD.exe and re-download the deleted file from the Google drive.